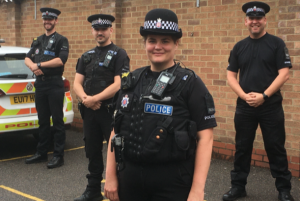 ESSEX Police know how frustrating it is to have your property stolen which is why, since its formation a year ago, the Harlow Town Centre Team has acted to tackle bike thefts.
The team had seen a high number of thefts in the town centre and surrounding area over a three-month period.
Sergeant Tony Short said: "We know the impact it can have to have gone to the shops or finished a day at work only to find your bike has been stolen.
"Initially we had very little information to go on making it difficult to identify a suspect and progress the investigations.
"So we worked in partnership with Harlow Council's Community Safety Team, local security teams, and local businesses and were soon able to build a profile of a suspect and the areas which had been targeted.
"This meant we were able to review a lot of the investigations and managed to arrest, charge and get a conviction for a suspect who was jailed for seven months.
"Since then we've seen a significant fall in bike thefts in the town centre."

Popularity: 1% [?]