STEWARDS Academy students have reacted with anger after the removal of a Black History Month poster by senior management.
The posters (see below) had been placed around the school this week at the Parnall Road school.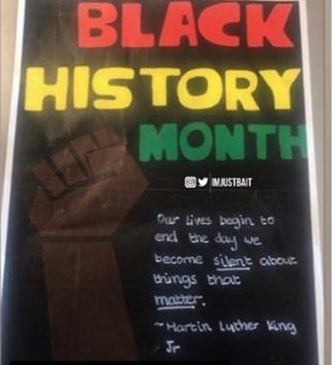 But students became enraged when they saw that the posters had been removed.
The politically aware students went onto social media (Instagram) to express their anger and question why?
YH asked for a statement from the school,
Statement from the Headteacher of Stewards Academy
"Stewards Academy is committed to serving our whole community and recognise the important events that have happened over the last few months regarding equality and specifically the Black Lives Matters movement. We strive to educate our students and ourselves in order to improve our world.
Yesterday a number of posters were displayed in school to promote Black History Month. These posters included the raised fist.
"My understanding is that this symbol has been used to represent a number of organisations and causes throughout history such as the German Communist Party during the 1920s, as a greeting in the Spanish Civil War in the 1930s and more recently adopted as the logo for the Northern Soul music sub-culture.
"There are many more examples of the use of this symbol. We felt that we needed to ensure that we put some context around the poster before displaying it in the academy. A team of students have been tasked to do exactly that."
==========================================================
Comments
Anon
What a ridiculous excuse from the headteacher. The black power symbol has been around for decades!!!
Steve
Bull sh** report
Lily
I go to stewards and all the head teacher has said is bull***. she has said that the posters were violent and maltant, and there is a lot more reasons , I have been told by my friends and they are year 11 and 16 that as soon as they get caught in school smoking , the teachers make a bid deal about it punish them and treat them bad and excludes them but when they got threatened to get stabbed the school did nothing about it not even when they started screaming that they want them to do something about it .. I think stewards is the worst school ever
Anon
This is a stupid report from the head teacher, she is an absolute disgrace to the school, always talking about how they are a diverse school, we know the real truth.
Katie Braham
They werent removed by staff, the head told the students they have to take them down as they provoke violence and are militant. Their excuses are pathetic and incorrect history. The students are still waiting for an apology and for the staff to educate themselves and admit their wrongdoings.
James Shaw
I see no reason why such a big deal should be made about a silly poster, At the end of the day there should not me a month for just black history and it should not just be Black live matter, It should be all lives matter and black history should be an all year topic mixed in with the history of the time there are studying.
Sara
My children go to this school and were as I outraged at this. I emailed the school and await a response. The statement here, whilst fact, from the school is complete hogwash. They are not allowed the poster due to Northern Soul boys hahaha. If you mean something else at least have the ballz to say it