Isthmian South Central
Harlow Town 0 v 1 Chalfont St Peter
IF you want to know why Harlow Town have lost seven league games in a row then one of the major factors is that they look absolutely dreadful in front of goal.
This is a real shame because there was so much here that was positive. The team worked hard and were very positive. Nobody could fault their commitment.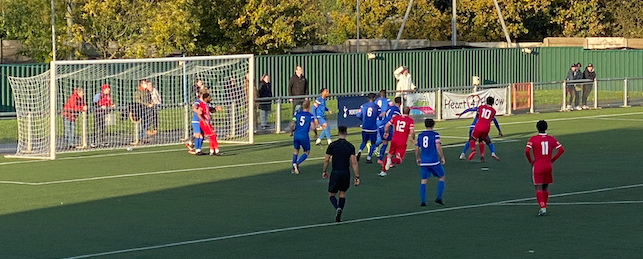 One of the most impressive players was winger Songone More Hazi Kone who showed real skill and endeavour on both flanks but there was simply no final product.
The first half was even with two teams ploughing away. Chalfont sat back and relied on the break whilst Harlow looked to find that breakthrough.
However, most chances ended up being skied over or missing the posts.
There was a definite understanding between the players with a solid defence including a very solid Craig Alcock and the confident midfield especially a committed Junior Jason Brown.
In the second half, the goalmouth action became a little bit more frantic but the game was still evenly poised.
This may have been goal-less at this stage but it was entertaining and the players were good value for money.
But with fifteen minutes to go, you could see player coach Dave Collis imploring his team and especially his strikers to be more urgent. You felt he sensed what was coming.
Sure enough, in the 79th minute a neat low cross from the left hand side was slotted home at close range by Alexander Cathline.
Harlow looked resigned. An attack soon after summed up their plight, with a player shooting widely over the bar when there was a man free in space.
The result leaves Harlow Town firmly anchored at the bottom of the league.
With lockdown looming that may give them time to perhaps find a player who can and will score. If not, then the next thirty games could be tough going.
Harlow Town
Callum Taylor, Craig Alcock, Ahmet Biler, Dave Collis, Gavin Austin, George Austin, Junior Jason Brown (Marcus Marku 74), Syrus Gordon, Jaedon Phillips (Warren Kayembe 76), Christian Adu Gyamfi, Songona-Mory Hazi Kone (Amar Lewis 86)
Subs not used: Ross Elsom, Dillon Gordon
====================================
Comments
John McClelland
Its a well known fact that money at this level attracts the right players to win games. Harlow must be paying very low wages to players otherwise they would attract the best players in this league and above this level. Harlow town earn far much more money than ever before in their history. The introduction of the 4 g pitch which can be used 24/7 , a mass of youth set ups all paying a substatial amount of money per child to be part of the harlow town set up. So where is this money going? It obviously is not going to the first team set up , its obviously not going to developing the youth set up to feed the first team as we have none or very few players in the current first team. Perhaps the curent owner of the club who lived here in England but currently resides in Spain could answer these questions. Not that he is prepared to do that