HARLOW resident and local teacher Jake Shepherd will be delivering a virtual guest talk to first year students at the University of Liverpool on Monday (8th March).
As interest both nationally and internationally grows about Britain's post-war new towns, the talk is an opportunity to showcase Harlow's heritage to new audiences.
Dr Thomas Moore, a lecturer in planning who leads the first-year module 'Understanding Place' at the Department of Geography and Planning, said: "The post-war New Towns movement represented a significant and major urban planning intervention in a way that is rarely seen in the 21st Century".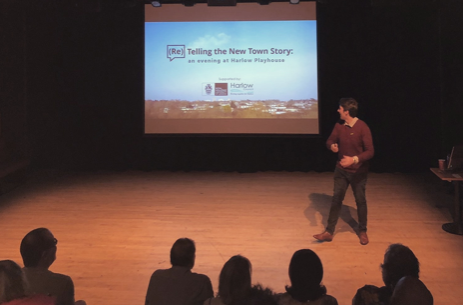 Following the Town and Country Planning Association's November study tour of Harlow, Dr Moore contacted Jake via his (Re)Telling blog to explore the possibility of speaking to students about aspects of Harlow's new town heritage and to share his experience growing up and living in a new town like Harlow.
As Dr Moore explained: "An aim of our course is to help students understand historic and contemporary approaches to planning the places in which we live and work, and to explore their relevance and applicability to placemaking and building communities today.
"I am particularly interested in the New Towns as their development represented a really significant effort to improve the living standards of the population in the post-war period, but their legacy is sometimes under-appreciated and debated.
This is why I'm delighted Jake is able to give a guest talk for our students. Hearing from someone who is an expert in the subject and can reflect on their experience of growing up and living in a New Town such as Harlow will be hugely beneficial to our students".
Whilst it won't be possible to record Monday's talk, Harlow residents were able to take part in two community events in 2019 thanks to the generous support of Harlow Council's Civic Pride Community Fund and Royal Holloway, University of London's Max Carey Memorial Prize.
Both awards allowed two free community events to go ahead, one at Harlow Museum with Harlow Civic Society and a second public event at Harlow Playhouse.
The 2019 talks presented findings from Jake's undergraduate dissertation which compared Harlow's 40th (1987) and 70th (2017) anniversary commemorations, whilst also initiating audience-led discussions where residents shared their memories of Harlow's past and present.
Much in Harlow has changed since 2019 and this is expected to be reflected in Jake's talk at the University of Liverpool on Monday. Jake reflected that "a personal highlight of both events was being able to bring residents spanning generations together in one room to learn from each other about the town we all call home".
Thinking ahead to Monday's talk, Jake said "this opportunity is a real privilege, and I am extremely grateful to have been invited by Dr Moore to talk about my hometown in front of the next generation of planners. Whilst Harlow's heritage is contested and never static, I am grateful to residents who responded to my recent survey on perceptions of Harlow which has shaped parts of the presentation".
Those interested in Jake's work on Harlow new town can visit his blog, or read more about the history of the UK's post-war new towns in the recent book "New Towns: The Rise, Fall and Rebirth" by Katy Lock and Hugh Ellis.