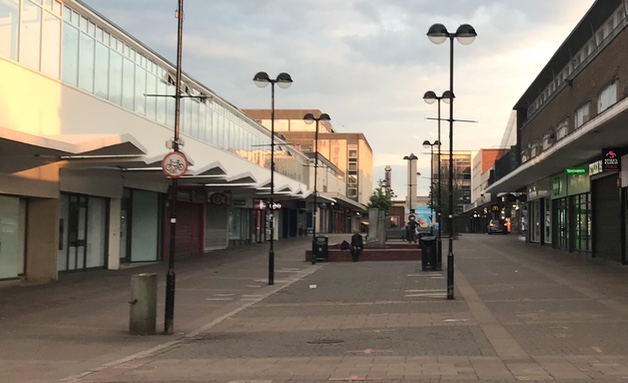 Dear Sir,
IT is astounding how constant criticism of Harlow Town Centre has gone unheeded for years. In fact, it has deteriorated consistently leading shoppers living on the fringes of the town to switch their custom to nearby towns such as Epping, Hoddesdon and Bishop's Stortford. The Town Centre has become reminiscent of a form of 'apartheid zone' with the southern end having the Harvey Centre and shops around the Water Gardens, whilst the northern zone is a sad picture of decadence and decay. 
The area around the former Odeon is a disgrace. Little work has been closed for years with no apparent signs of progress. The once vibrant and popular Market Square looks more suited to a neglected town behind the erstwhile Iron Curtain. How much taxpayer money has been wasted on absurd projects such as the outlandish umbrellas and concrete outdoor table tennis tables? Who comes to town to play table tennis outdoors at these latitudes, where even the slightest breeze will render a match impossible, without taking into account that there was no provision for hiring the necessary equipment? A vanity project? Possibly. An insanity project? Certainly.  How many more expensive, wasteful, ludicrous schemes will our Labour run Council inflict upon us?
The council seems indifferent to the plight of the Town Centre. Empty shops are pervasive. How do Harlow Business Rates, parking costs and parking facilities compare with neighbouring towns in Herts and Essex? Does the Council even know or bother to find out? Prior to the pandemic, high streets were already struggling in the face of online shopping. The pandemic has served to accelerate and exacerbate this trend. Also, work practices have changed with more people working from home and fewer commuters. This could present opportunities for increased local demand for goods and services. Harlow needs a clear vision to adapt and to plan for this type of future, which is already upon us.
The Market Square and its surrounding area should be a hub for social and cultural pursuits and experiences that cannot be achieved online; Cafes, bars, live music, craft markets, etc. One only needs to go to towns of comparable size in Austria or Germany to see how such places thrive throughout the four seasons. Instead, we have an unspeakable pub beneath clock that has all the charm of an abattoir. Do we seriously believe that Harlow does not have entrepreneurs to seize such opportunities given the right framework, encouragement and support? The northern end of the town centre is distinctly unpleasant and increasingly dangerous, particularly at night when an unsavoury culture of drugs, anti-social behaviour and drunkenness prevails. A visible Police presence is noticeable only by its absence.
The degeneration of the Town Centre has gone on for far too long. The people of Harlow deserve better. They need an administration that not only cares but also has the vision, determination and ability to make lasting improvements. The hallmark of the present Labour run Council is one of incompetence, neglect and indifference. They are well past their sell by date. I think it is time for a real change.
Kind regards
Connie Sosa