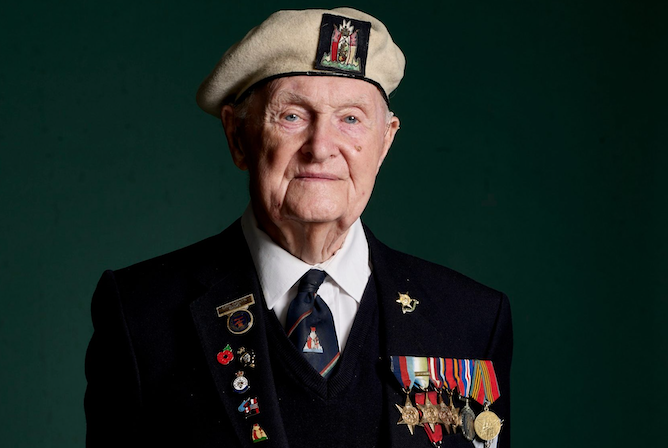 A FEW days ago, requests were put out all over social media asking people to attend the funeral in Harlow of D-Day veteran Cyril Banks, who has died, aged 97.
The request was put out as Cyril had "no family". People all over the country were responding saying how sad this was and stating their intention to come and pay their respects.
People contacted YH. We told them that before we published anything, we would check with Funeral Directors Daniel Robinson and Sons first.
However, the story "grew legs" and before you knew it, the story of Cyril's "plight" was in the Daily Mail, The Daily Telegraph, The Sun etc.
YH fact-checked and found out that Cyril still has lots of loving family who will be at his funeral at Parndon Wood in Harlow on Monday May 30th.
Daniel Robinson's switchboard was inundated on Thursday and they spent a lot of time, patiently letting people know the true story.
People were being kind and their hearts were in the right place.
Nevertheless, we would like to pay tribute to Cyril Banks, who served his country.
====
Cyril Banks enlisted in the Royal Navy in 1943, aged 18, and joined the minesweeper HMS Ready. Cyril's first months at sea were spent in the harsh Arctic convoys and in the North Sea patrolling for German U-Boats. HMS Ready was then deployed to the Channel to help with the minesweeping efforts leading up to the D-Day Landings. On D-Day itself HMS Ready led the mine-clearing flotilla off Gold Beach. Under constant threat of being hit by coastal guns or German aircraft, it was a gruelling task, both physically and mentally,
'We saw bodies floating in the water, including an American paratrooper who became caught in the cords of his twisted chute when he down in the water. We found him drowned but later gave him a decent burial at sea. The horrendous things that were happening will live in my mind forever.'
Cyril later served on LST (Landing Ship, Tank) craft in the Channel before sailing to the Far East, where he took part in operations against the Japanese and assisted in the repatriation of Australian POWs.
Cyril was a prominent figure in fund-raising for the Royal British Legion in the Hertfordshire area. He was also there paying his respects at Remembrance services.
https://www.bishopsstortfordindependent.co.uk/news/d-day-veteran-cyril-honours-fallen-comrades-from-76-years-ago-9112433/