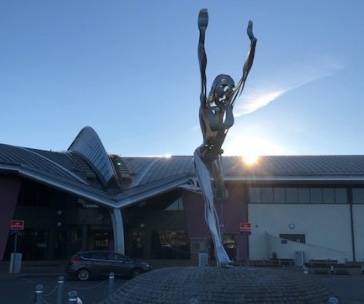 AN APPEAL after the Harlow Council planning committee rejected a bid by a church to use the Harlow Leisurezone has been allowed by a planning inspector.
Back in June 2021, the committee rejected the bid by Brass Architecture on behalf of the CRC Church .
At the time, all the councillors (Labour and Conservative) objected to the proposal. (see film below).
A Harlow Council spokesperson said: "The council notes the Inspector's decision, but it also notes that no costs have been awarded against the council.
"The situation has now moved on with a veterinary business securing planning consent for that space in March 2022."
YH has spoken to the Christian Revival Church (CRC) and will publish a respond in due course.
The full decision is below
Decision
The appeal is allowed and planning permission is granted for change of use of science education area to accommodation for religious teachings (Use Class F) at Harlow Leisurezone, Second Avenue, Harlow CM20 3DT in accordance with the terms of the application, HW/FUL/21/00148, dated 17 March 2021, and the plans submitted with it, subject to the following conditions:
1) The development hereby permitted shall begin not later than 3 years from the date of this decision.
2) The development hereby permitted shall be carried out in accordance with the following approved plans: Site Location Plan – ref.0001 A 00; Site Location Plan – ref. 0002 A 00; Existing Unit Plan – ref. 0003 A 00; Proposed Unit Plan – ref.0004 A 00;.
3) The use shall not operate except between the hours of 6.00am and 11.00pm on Mondays to Saturdays and Bank Holidays. No deliveries shall be taken at or despatched from the site outside the hours of 8.00am and 5.00pm Mondays to Fridays, nor at any time on Sundays or Bank Holidays.
Preliminary Matter
The description of development in the banner heading above has been taken from the Council's decision notice as it is a more succinct, accurate description of the development before me than provided in part 5 of the planning application form. It is also the description given by the appellant in part E of the appeal form.
Main Issue
The main issue is the effect of the proposed change of use on the residents and users of the host leisure centre.
https://www.gov.uk/planning-inspectorate

Reasons
The appeal site is an independently accessed unit in the north-east corner of the Harlow Leisurezone building located at the junction between Velizy Avenue and Second Avenue. The unit was originally used as a science education area, which ceased in 2018, and is currently a Covid vaccination centre. The proposal is to change the use of the unit to provide accommodation for religious teachings (Use Class F).
The Harlow Leisurezone is principally a swimming pool and leisure, sports facility, but I saw from my site visit that it also accommodates others uses including a children's nursery, hairdresser and café accessed from the central reception atrium. Policy L2 of the Harlow Local Development Plan (2020) (LP) supports the provision of recreational, sporting and cultural and community uses and/or facilities. The policy envisages a range of different community and cultural uses, including places of worship and educational facilities. Both the existing and proposed uses fall within the provisions of LP Policy L2, which gives no greater weight to one use, over the other.
The Council's reason for refusal refers to discrimination associated with the proposed development and their evidence to the appeal expands that this relates to concerns about some of the teachings and ideologies of the Church organisation proposed to occupy the unit. The planning system does not operate in the interests of individual organisations. It is the use of the land, in this case for religious teachings, and not the organisation that is the determining factor in deciding if the proposal is in accordance with the development plan. I have, however, given careful consideration to both the concerns of the Council, in respect of publicly made views of the leadership figures of the Church, and to the Statement from the Church that a number of the allegations are unfounded. I also recognise the sensitive timing of the planning application and its determination during the Covid pandemic.
However, I have no factual evidence of any substance before me that the proposed change of use would lead to discrimination of the wider Harlow community or that it would reduce the actual, or perception of, safety for other users of the Harlow Leisurezone. The unit would have a separate access at the north-east end of the main building, away from the activity of the central reception atrium. Unlike the main sports and leisure facilities at the Leisurezone, there would be no internal access from the main building. To all intents and purposes the unit would be physically and functionally separate from it. I am therefore not persuaded that the presence of accommodation for religious teaching would in any way discourage others from using the existing facilities.
Consequently, there would be no conflict with LP policies PL1 or L2 because the proposed change of use would create a safe and secure environment, accessible, should they choose, to all sectors of the community. Further, there would be no conflict with paragraph 130 of the National Planning Policy Framework in so far as it requires development to create places that are safe, inclusive and do not undermine the quality of life or community cohesion and resilience.
https://www.gov.uk/planning-inspectorate 2

Conditions
In addition to the standard implementation condition, for the avoidance of doubt, it is necessary to define the plans with which the scheme should accord. It is also necessary, as suggested by the Council, for a condition to be imposed that aligns the opening and delivery hours with the wider Harlow Leisurezone use, and to protect the amenity of neighbours.
Conclusions
For the reasons given above, I conclude that the appeal is allowed.R.Jones Planning Inspector