AT Stewards Academy, the familiar buzz of excitement and anticipation filled the flexi-suite once again as pupils gathered to receive their GCSE results. After the educational turbulence of the last few years, there were lots of smiles and hugs as pupils opened their results and began to celebrate their success.
It was really pleasing to hear that the vast majority of pupils achieved the grades they needed to move onto the next stage of their educational journey. Staff joined the pupils to congratulate them on their achievement and pupils were keen to thank their teachers for all the support they had given them over the five years.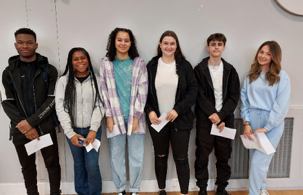 Our top 10 performers achieved an amazing 100 of the highest grades between them. Students are planning to study at a range of destinations including Herts and Essex, Leventhorpe and Harlow College.
Emmanuel Addo-Sunu, Head Boy 2021-2022, achieved 10 top grades with 9s in English Language, Biology, Chemistry, History and Business Studies. He plans to go to Herts and Essex to study Further Maths, Physics and Product Design. Emmanuel has been a stalwart of Stewards Academy throughout his time here on the sporting field, School Council and has been an amazing Head Boy.
Poppy Tant, Head Girl 2021-2022, achieved 10 top grades with 9s in English Language, History and Art. She intends going to Herts and Essex to study Media, Psychology and English Language. Poppy has been a fantastic Head Girl and been involved fully in the life of the academy during her time here including performing arts and School Council.
Fleur Salhi, achieved 11 top grades including 9s in Mathematics, French and Further Maths. She plans to go to BMAT Stem to study Maths, Physics and Further Maths. Fleur has had great success across a range of subjects and been a prefect, School Council and a performer.
Headteacher, Helen Ginger said: 'I felt immense pride when I watched the pupils we have nurtured and challenged over the last five years celebrate their success. Our truly committed staff have worked so hard to develop these pupils into the delightful, successful and well-rounded young people they have become, and this is always an opportunity to reflect on why this job is all worthwhile'.
If you are interested in following the life of Stewards Academy, we regularly have updates on Twitter and Instagram. Please follow us @StewardsAcademy and @Stewards_Head on Twitter and @stewardsacademy on Instagram. A final source of information is here on YourHarlow where you can see lots of things we have been up to previously:
http://www.yourharlow.com/category/education/stewards-academy