HARLOW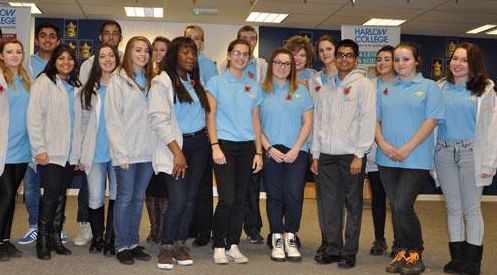 Town centre came to a virtual halt on Thursday evening as Velizy Avenue filled with vehicles trying to get into Harlow College. The carpark was unable to cope with the sheer volume of vehicles, leading to long tailbacks. Fortunately most visitors were undeterred and remained good natured throughout!
The College's Admissions team estimates that well over 3000 visitors attended this November's Open Evening, smashing the previous record by a wide margin. Visitor numbers have been rising steadily over the years and this trend seems set to continue as word spreads about the College's outstanding success rates.
Their Student Voice Ambassadors were out in force, providing information and dispensing goody bags to the assembled throng. Their enthusiasm was infectious and they had many positive comments about their work – they were a wonderful example of direct student involvement and a credit to the College.
Diana Liasuk, a first year BTEC Science student and a Student Ambassador, had this to say of the event:
"It was a fantastic evening! For two hours non-stop I was involved in showing people around and answering questions from prospective new students and their parents. As a Student Ambassador I need to be able to help with questions about the whole college, not just my course, and I found this to be really good experience for me. I can't wait for the next Open Evening in February!"
The new Sir Charles Kao University Technical College was also well represented and prospective students and parents had an opportunity to view an architect's impression of the UTC's state-of-the-art facility, soon to be built on the Harlow College campus.
At University Centre Harlow the full range of degree subjects available was on display, as well as advice and guidance on all aspects of the higher education offer. Current UCH students were also on hand to offer a student's view of life as an FE student at UCH.
Harlow College is also expanding its range of part-time courses for adult learners, so we were proud to be able to showcase these at Open Evening. An updated list of the new courses is on our website (www.harlow-college.ac.uk/adults).
All in all, this November's Open Evening was a triumph. Exhausting, exciting, occasionally overwhelming, but thoroughly enjoyable and amazingly well attended.
Karen Spencer, Principal of Harlow College said:
"We had a fantastic event and were proud to show our visitors the range of options on offer. Our status as the No.1 FE College in England is paying off and has led to a record turn-out".