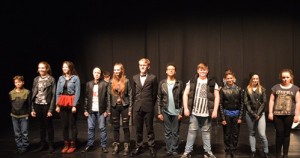 THE works of Shakespeare were brought to life during a school festival.
Students from Burnt Mill Academy, in First Avenue, Harlow, took part in the Shakespeare for Schools Festival at the Playhouse and took the challenge to turn a piece of work into a 30-minute performance.
The 16 students from all year groups transformed Twelfth Night into a humorous play.
Teacher Phil Watson said: "The students really brought Shakespeare to life and sold the story through their brilliant acting. Thirty minutes is not very long to show a really complex storyline. They worked really hard on making it clear, but also gave it a modern punk rock theme.
"Students have to learn about Shakespeare as part of their English course, so to get them interested and excited about it in this way really helps to show how Shakespeare works and why it is so well loved."

Popularity: 1% [?]