A 77-year-old former pupil of Roydon Primary School is helping to bring history to life for today's children.
Rob Harknett was a pupil at the school, then named Roydon County Primary School, between 1945 and 1953. His father Arthur attended in 1907 and his three siblings, seven cousins and two sons followed.
The family moved into a newly built house in Hansells Mead in 1939, with Mr Harknett's mother living there until she died in 2012 at the age of 96.
Mr Harknett, who still lives in the village, is sharing his memories and photos with the school as they piece together the school's 140-year history.
Head of school Michael Clark is keen to develop a timeline through the corridors to show children the history of their community since the school was built in 1877.
The collection already includes a punishment book from 1954, photos of the school's football teams throughout the generations and original logbooks.
Mr Harknett has supplied images from his life in Roydon and at the school where his overriding memory of attending Roydon was the harsh conditions. He said: "It was always cold. I can remember walking to school in really bad weather wearing shorts and shoes that leaked. When it snowed, our boots would fill up and we would get chilblains. We would spend all day at school cold. The only heater was in the corner where the teacher sat.
"It was pretty strict. To get your attention, the teacher would just clump you around the ear, as they would if you misbehaved. I never really got into trouble, though, I was accused instead of being the teacher's pet!
"I can remember one day when I had pleurisy (inflammation of the lungs) I could hardly breathe and so was making a lot of noise. The teacher clumped me and told me to go home. I got as far as the school gate and collapsed; I couldn't walk I was so unwell."
Mr Harknett also remembers school dinners as being "not very nice", with a rotation of stew, toad in the hole and shepherd's pie followed by semolina or custard served at the nearby Congregation Hall. While they were occasionally served a spoonful of malt and concentrated orange, Mr Harknett said: "We all have bowed legs as we didn't have a very good diet or vitamins."
Despite these difficult moments, Mr Harknett's overriding memories of school are happy. He said: "I have a lot of fond memories. You remember the cold as it was so uncomfortable, but the memories are happy."
While so much has changed since Mr Harknett's days at Roydon, much has stayed the same. He said: "My last teacher at the school, Mrs Bull, used to keep me back at the end of school for extra English lessons as I was never top of the class. I was not very happy about staying back at the time as I had a paper round to get home for, but she was trying to help me."
Children then were not allowed to use pen and ink until they reached the seniors, while today's children are not given a pen licence until they develop good handwriting.
While "reading, writing and arithmetic" were top of the agenda, much like today, by contrast boys were taught gardening while the girls learnt how to cook.
When it came to physical activity, Mr Harknett remembers the rush for the basket of plimsoles before PE. He said: "Nobody had much of their own, it was all school equipment. The school provided plimsoles and everyone would dive into the big box to try and find the right size and a matching pair. We had a school football team and played against other schools and we were taken to an outdoor swimming baths for swimming lessons."
As Harlow town celebrates its 70th anniversary this year, Mr Harknett remembers: "We didn't travel much in those days and Harlow was five miles away. I did go to Mark Hall School, but it was not completely built when I started there.
"We used to have an annual school excursion from Roydon to Southend instead which was a good memory. That one-day trip was all we had to look forward to as we didn't have holidays. The whole school would go, as well as our parents. There would be five or six coaches lined up outside school to take us."
Mr Harknett said without TV, radio or sweets, his day consisted of going to school, going home for tea and in bed for 6pm – a treat would be staying up until 7.30pm.
Mr Clark said: "The children today would not believe what life at their school was like back then. It's amazing how different it is in such a small period of time, while some things are still the same, like the things we teach.
"History is something the children are interested in and want to learn about. We are using all of these anecdotes to teach them."
If you have memories, stories, photos, reports or books from you or your family's time at Roydon Primary, particularly during the 1920s to 1950s, get in touch on [email protected]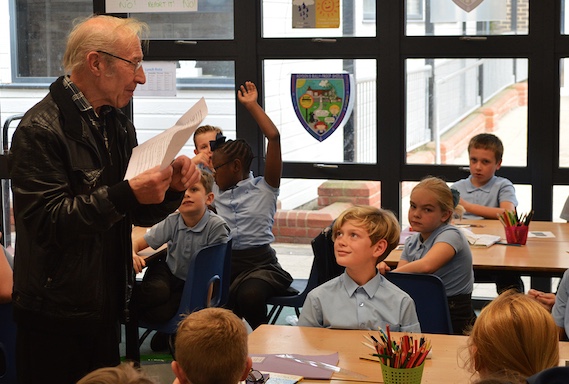 Popularity: 1% [?]