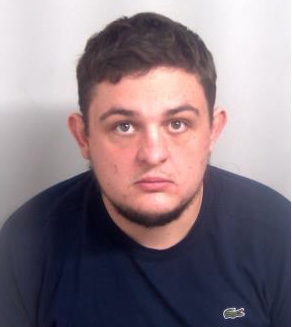 A MAN has been jailed for six years following a high speed pursuit on the M11 that saw five vehicles being struck and a determined officer being assaulted.
Cormack Doolin, 24, unemployed, of Albany Road, Hornchurch, received three years for robbery, two years for dangerous driving, six months for theft and six months for actual bodily harm, all to run consecutively.
At Chelmsford Crown Court on Monday, June 11, he was also disqualified from driving for six years and received no separate penalty for driving without insurance.
At around 10.50am on Sunday, February 18, we were carrying out speed checks on the M11 when Doolin drove passed in a Kia Sportage travelling at 99mph.
Roads policing officer, PC Mike Bignell, followed the car and signalled for it to stop without success. Doolin drove off, weaving in and out of lanes at 120mph over 11 miles, before crashing into two vehicles on the junction 7 slip road.
PC Bignell got out of his car and tried to open Doolin's door but was run over and knocked to the floor, suffering a hand injury. Despite this, the officer got up and continued the pursuit.
Doolin was later involved in two further head on collisions with four cars along the A414 in Church Langley – one car carrying two children. He ran off but was tripped over by a member of the public, Mark Solomon, and was quickly arrested by PC Bignell.
The Kia Sportage was found to have been stolen from an address in Heaton Avenue, Romford, overnight on Monday, February 5.
Doolin was also sentenced after robbing a guard carrying an empty cash box in Brentwood High Street at 12.45pm on October 11, 2017. The box was later found smashed in a car park in Park Road.
Investigating officer, DC Mel Keen, of Brentwood CID, said: "Doolin was determined to escape at any cost. He drove at dangerous speeds, collided with five vehicles and run over a police officer.
"His dangerous actions resulted in an innocent woman suffering broken ribs and a man having to undergo surgery for back pain.
"PC Bignell suffered soft tissue damage and despite being in pain, still bravely pursued the vehicle and arrested Doolin. I would like to thank him for his courage and determination.
"My praise and thanks also goes to Mr Solomon who tripped Doolin and has since been rewarded with £200. His actions have resulted in a dangerous individual being locked in prison for a number of years."
PC Bignell, DC Keen and Mr Solomon have all been nominated for commendations.

Popularity: 2% [?]