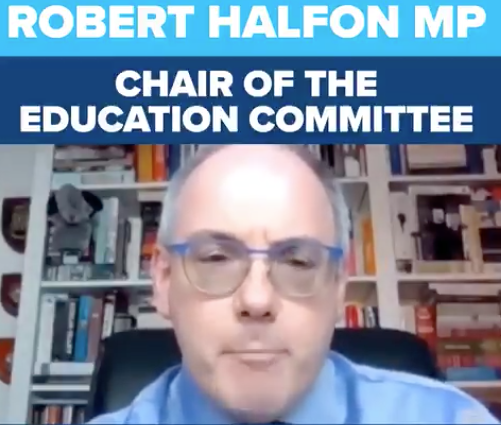 ON Friday morning, we wrote an editorial reflecting on the obvious concerns that Harlow parents had regarding their children returning to school. It was motivated by the 36,000 plus page views we had had on the day we published the story regarding Holy Cross Primary and a Covid-19 incident.
As we had name checked Harlow MP Robert Halfon in the title, we have given him a right reply.
======
Dear Editor,
I would like to thank you for the responsible way in which Your Harlow is reporting on this matter.
This is an incredibly difficult issue. I fully respect that many parents have anxieties about sending their children to school and I understand why a number of parents have decided not to do so.
As Chair, I have made it a priority to raise the safety of schools in my Education Committee on a number of occasions with the Education Secretary, the Schools Minister and the Children's Minister. Last week, I also asked the Prime Minister himself if he can "assure all those parents, children, teachers and support staff who are watching today that the phased school opening on 1 June is absolutely safe, is of minimal risk, that all the required testing, tracking and tracing will be given to teachers, staff and pupils, and that there will be the required PPE where it is needed?" The link to the Liaison Committee's session can be found here: committees.parliament.uk/oralevidence/426/html/
I have also raised the issue of PPE and testing for teachers and support staff, very early on, to ensure that school staff feel safe to return to work. My Committee sent letters to the Education Secretary about priority testing and appropriate PPE in schools. I enclose this which can also be viewed on our Committee website here: committees.parliament.uk/committee/203/education-committee/publications/3/correspondence/. I have had frequent discussions with the trade unions and in fact, my Committee will be holding a further session with the unions in the coming weeks to hear from them further.
In Harlow, I have written to headteachers of primary schools to ask for their views on the reopening of schools so that I am able to feedback their concerns to the Department for Education. Regularly, I have spoken with parents about their worries and represented their issues to the Government, including through questions to the Department for Education's Chief Scientific Adviser, earlier in May. Last month, I put out an open letter to residents on Your Harlow, setting out my reasons for wanting schools to reopen. This highlighted support for the return of children to school from the Children's Commissioner, former Labour Education Secretaries of State and the Deputy Chief Medical Officer, amongst others.
Having said this, I reiterate my understanding that many parents, children have concerns around the phased reopenings of schools and will always do my best to represent their views to the Government. I would also like to take this opportunity to restate my thanks and appreciation to the many hardworking teachers and support staff in Harlow that have displayed remarkable courage in keeping schools open throughout the pandemic to look after children of key workers and vulnerable children. I feel very strongly that children at risk of being left-behind and from disadvantaged backgrounds must continue to get the support they need throughout the pandemic – including the vouchers to free school meals for eligible pupils. Today, I have written to the Children's Minister urging the Government to extend the scheme over the summer holidays, as many parents are in very difficult financial circumstances during this crisis.
Best wishes,
Robert Halfon
MP for Harlow and the Villages