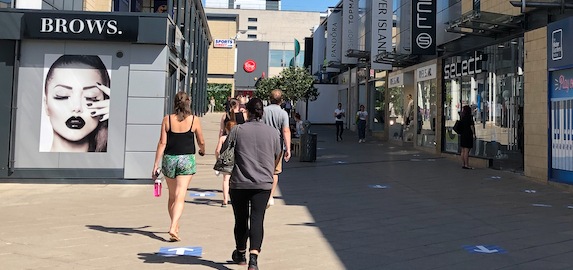 Dear Editor,
HARLOW needs a plan to move forward from the COVID-19 lockdown. The most vulnerable in our community, local businesses and jobs all depend on the council getting on with this key priority. Harlow's residents need hope that we can recover from the crisis with confidence. Sadly, there is no sign that Harlow Council is doing anything near what it should be to achieve this.
The launch of the Conservatives six-point recovery plan last week provided an opportunity to lay out the strategic focus Harlow Council needs to get on with the task at hand. Over a month has gone by since the role of Portfolio Holder for Resilience and Recovery was established with the promise to also set up a cross-party working group because of the seriousness of the situation. It was made clear who the Conservative nominations to that group would be at the time. It is therefore more than disappointing that no progress has been made.
If the administration had set out, even in high-level terms, what it intends to do to shape the town's recovery, I believe residents would be far more understanding given what the council has dealt with already during this public health crisis. Silence is not leadership but it speaks volumes about the current strategic paralysis that has engulfed the council. Nobody is willing to take decisive action – that must change.
The Resilience and Recovery role is a full-time job, requiring policy development experience and a huge amount of energy to deliver for Harlow. I have seen no evidence of the key skills and drive needed to carry this out. It should concern us all that work to develop the council's recovery plan seems to have all but stalled. We needed the building blocks of a plan several weeks ago. Encouraging the development of a credible plan is in everybody's interests. Conservative councillors continue to stand ready to help get the job done.
Apparently, the council's internal recovery working groups have been in operation for many weeks but we are still no closer to understanding what detailed work has actually been undertaken. Now is the time to reach out to all civic leaders, business owners, faith groups and the town's many charities to work together to build a recovery plan.
A clear strategic recovery plan matters because it will help inform what the council must prioritise as part of its separate but equally important responsibilities for operational delivery.
Emerging operational priorities:
Business support
There will be a need to deploy more targeted resources to support the local economy. This means the team working on regeneration projects and wider economic growth will need to be given more support to work closely with local businesses struggling to keep afloat. The council should review its recruitment plans and consider the feasibility of bringing in an expert who has the right regional experience to attract new investment.
Housing services and infrastructure
Social housing will inevitably be a greater priority for the council. It would be prudent for the council to revisit its plans for investing funds in housing to deliver more impact. Good quality affordable housing must be accessible to all. Harlow Council needs to refresh its housing support plans to anticipate growing demand.
Community empowerment
The funds used by the council to support community groups will need to be revisited. If we want to embed greater resilience in our community post-COVID, the council must support the ongoing efforts of organisations that continue to support those most at risk from the virus. A new COVID Community Fund should be established to achieve this aim.
Vulnerable residents
The council's Revenues and Benefits team, housing services and Contact Harlow will need to review their capacity to deal with those who have been badly affected by the coronavirus outbreak. An internal study should be undertaken to evaluate the predicted volume and what resources are needed to provide the best support.
Environment
Harlow Council should fund more green investment projects to build a more sustainable community. One route to a more resilient community is through building greater local energy capacity by investing in renewable technologies. The council should set an ambition to become England's most environmentally friendly town. Encouraging the use of renewable energy sources and promoting electric vehicles with more rapid charging points in the town would be positive first steps.
Pride in our town
A greater commitment to ensure our street scene and green spaces are better maintained is crucial. If we want to attract more investment and job growth, we must be able to show potential investors that our town is an attractive place to live and bring up a family. We need a clear plan to revitalise our open spaces which includes consideration around new street furniture and other amenities that add to the appearance of the town.
A great deal of goodwill has been generated across the town and there is a genuine willingness to work with the council to help navigate a way through these challenging times. Nobody is under any illusions that the task ahead is straightforward. It is therefore vital that the council grasps the opportunity to work with all the talents in our community to build a robust and inclusive recovery plan. The problem is that many in our town are growing frustrated by the lack of action. Harlow Council must show greater confidence about how it plans to steer our town towards a better future.
Yours faithfully,
Cllr Joel Charles
Deputy Leader of Harlow Conservatives