THIS summer, our perennially popular Open Gardens event is back for its 25th year, and local security company, Land Sheriffs, are generously sponsoring it.
This year, the horticultural event will take place throughout the summer season, giving green-fingered fans of the event many opportunities to explore the beautiful gardens that will be opening for the Hospice. From mid-May until mid-August, lovers of flora and fauna will be able to explore some of the best-kept green spaces in the Hospice's catchment area over a 3-month Open Gardens season – from the villages of Thornwood and Hastingwood, to the gardens of Harlow, Loughton and Epping.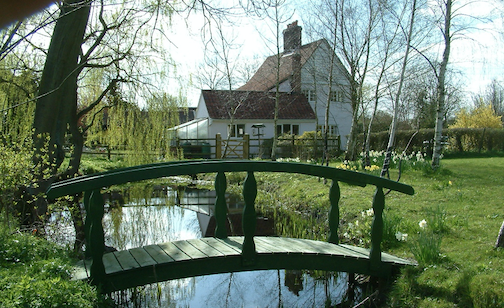 Christine Walkden, BBC One Show Gardener and Patron of St Clare, said: "Giving support to St Clare through visiting one of the Open Gardens in the scheme is an excellent way to pick up some great gardening ideas and learn from other local gardeners, who may have similar gardening conditions to your own.
"I have visited many gardens through such schemes in the past and this as added greatly to my knowledge, and given me inspiration for changes to my own gardens or those of my clients. I can confidently state that a visit to one or several gardens will be a rewarding experience and your support shows the garden owner that their efforts and time are valued. They themselves enjoy sharing their gardens with you, along with a cup of tea and a cake!
"Please take the time to enjoy the benefits of such a great scheme and show the garden owners that they are valued, as is the support you will give to your local hospice."
More than 20 venues will be opening their gates to the public in aid of St Clare Hospice during their 25th annual Open Gardens event, including Willingale Road Allotments, hosted by Loughton Borough Council. Open Gardens event organisers at St Clare are hoping to raise more than £5,000 for the Hospice across the summer season. Entry to participating gardens is payable on the gate and is from £3 per garden, or £5 per group of gardens. Tea, cakes, lunches and plants to buy are available in many of the gardens.
Tyler LeMay, Managing Director of Land Sheriffs, said "We're delighted to be supporting this fantastic event, helping people to open up their wonderful gardens for the public to enjoy, all to benefit the great work that St Clare Hospice does, at its Hastingwood site and in the local community. We are dedicated to nurturing long-term partnerships with local businesses, and within our local Essex community; sponsoring this event is our way of celebrating our commitment to the local community."
A free guidebook, which includes details of each of the participating gardens or groups of gardens and the cost of entry, is available in any of the nine St Clare Hospice charity shops, or at the Hospice Reception in Hastingwood.
For more information, please contact St Clare's Community Fundraising Manager, Dani on 01279 773738 or email [email protected]
For a full list of the participating gardens and their opening dates, please visit the St Clare Hospice website at: stclarehospice.org.uk/opengardens