Opinion-Editorial
ON SATURDAY, in town centres across the land, "Stop The Brexit Coup" events took place.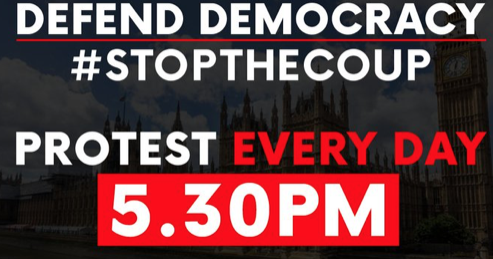 London, Glasgow, Leeds, Liverpool. You can trace a line down the east of England: Peterborough, Norwich, Ipswich, Cambridge, Saffron Walden, Bishops Stortford and then….
With twenty Labour councillors and hundreds of members in the town of Harlow, you would've thought that something would have been organised in the town.
But on Saturday afternoon, in the town centre, all we found was the Brexit Party and the Socialist Workers Party.
It is not as if Harlow Labour members are hiding. This weekend, like every weekend, you will find then at community events across the town: Harlow Town Park, Ashylns Care Home and Harlow Museum to name just three.
There just seems to be radio silence. Perhaps they have been put in a very difficult place.
This piece is not intended to condemn them but just highlight that it may be a tricky position.
They may be conflicted with many members who have voted Remain (and publicly stated so such as Cllr Chris Vince) and many who voted Leave.
Publicly, the Harlow Conservatives are singing from the same hymn sheet. Totally backing getting out by October 31st, deal or no idea. Totally backing PM Boris Johnson.
Some say the Robert Halfon you see on Twitter now seems unrecognisable from the one we have been reporting on for six years.
What we find baffling is that there appears to be an open goal for Harlow Labour on challenging Robert Halfon on his Brexit stance. It looks like the only person prepared to stand up to him is the former leader fo Harlow Council, Jon Clempner and he left the Labour Party last year!
What Labour appear to have, regarding Brexit, is quite a complex answer that is virtually unsellable in Harlow right now. It is certainly a very hard sell to the 29,602 who voted Leave especially the Second Referendum bit.
Truth is, we are not writing similar pieces on our sister paper, YourThurrock as Thurrock Labour haven't "branded" themselves in the same way as Harlow Labour.
Whether on-line or off-line there isn't an issue that passes Harlow Labour without comment, which is why their "Brexit Omertà" seems so out of character.
You just wonder if they are the only Labour group in the whole country with a "nothing to see here, move along policy" on Brexit?
Are they the only Labour group with nothing at all to say regarding the prime minister's successful bid to "prorogue" parliament.
When it comes to a General Election, they may well be vindicated as voters, as they did in 2017, concentrate on domestic issues.
Perhaps they are looking at the data and think that there could be a scenario where the Brexit Party eat into Robert Halfon's vote and Laura McAlpine comes through on the rails.
As we said, this is not a dig at Harlow Labour but merely a reflection on where they seem to be on all matters Brexit on the last day of summer.
What will Autumn bring? Unlock!

Popularity: 1% [?]