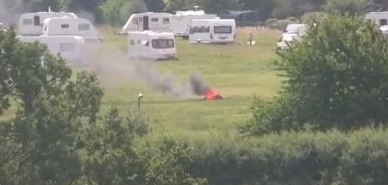 Dear Editor,
A NUMBER of citizens and Labour councillors have expressed their dismay that Robert Halfon's letter of June 25 to YourHarlow says: "sadly the previous Labour Council did not choose to renew the injunction – which has now allowed such encampments to arrive."
The fact that Harlow Council did not pursue a renewal of the 'unnamed persons' Traveller injunction due to unfavourable legal advice has escaped Mr Halfon's attention.
So, you ask, what was the legal advice Harlow Council received?
I'm not a computer hacker, but I can give you the very next best thing. That is the commentary on the Court of Appeal case concerning Bromley Council's failed appeal for an injunction provided by Harlow Council's barrister acting on their behalf as the Fourth Intervener in support of Bromley Council.
Harlow Council was represented by barrister Caroline Bolton of Radcliffe Chambers, who also acted for Thurrock, Redbridge and Barking & Dagenham councils as Fourth Intervener.
You can read Caroline Bolton's commentary in full from the link in the notes below. However, these two extracts from a 12-point checklist councils should consider before applying for an injunction are significant:
3. "Before seeking a borough-wide or de facto borough-wide order the local authority should ensure that it can demonstrate that it either has a transit site, a negotiated stopping policy, or, a policy for tolerating encampments that are not acting in an anti-social manner. Local authorities that cannot demonstrate this are likely to find their injunctions refused;"
4. "The simple fact that unauthorised encampments occur within an administrative area will not in itself justify seeking a borough-wide order, or, a de facto borough wide order. There is a positive obligation to facilitate the travellers way of life, and the evidence will need to be significant to demonstrate that the interference with the travellers article 8 rights is proportionate;"
It should be noted that in the period Harlow Council were considering a renewal of the injunction there were not any transit sites in Essex or close to the Essex border in neighbouring counties, nor was there a negotiated stopping policy.
In fact, in the Bromley court judgement in paragraph 9 it states: "There are no transit sites to cater for this need, whether in Bromley or anywhere else in Greater London. The court was told that the closest transit site (to Bromley) is in South Mimms in Hertfordshire."
On the basis of this case commentary you would have to be the world's greatest optimist to think Harlow Council would be successful in renewing their injunction. All of which leaves Robert Halfon misleading the public.
Regards,
David Forman
Sumners Farm
Harlow
=========
1. Caroline Bolton's commentary:
https://radcliffechambers.com/wp-content/uploads/2020/01/Caroline-Bolton-London-Borough-of-Bromley-v-Persons-Unknown-and-Ors.pdf?_gl=1*op0uw5*_up*MQ..*_ga*MTQ0NjUxNDk4OS4xNjg3ODEyMjA4*_ga_47RKWK8KKZ*MTY4NzgxMjIwNy4xLjEuMTY4NzgxMjIwNy4wLjAuMA..
2. YourHarlow Robert Halfon's letter
3. Court of Appeal Bromley Judgement by Lord Justice Coulson 21 January 2020