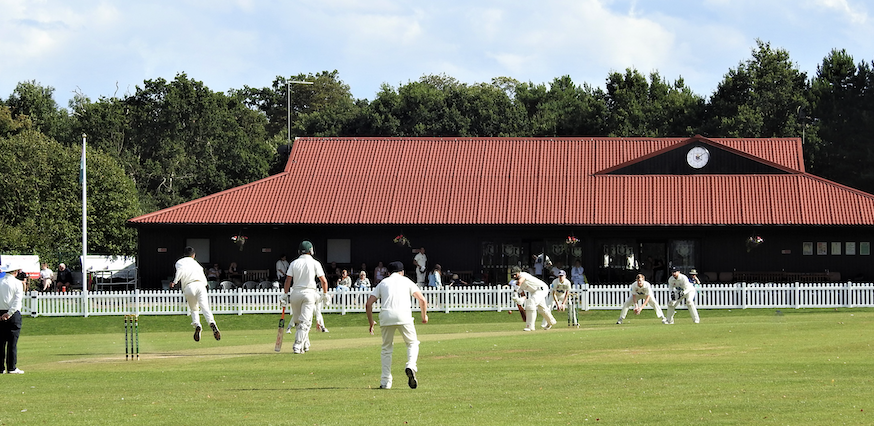 THE First XI, top of the league before start of play, travelled to Bentley and their notoriously challenging pitch when remotely damp. Harlow batted first and struggled to make 135-9 in 50 overs. Abi Farooq top scored with 34 (off 120 balls in an anti-Bazball approach!) whilst Gul Hassan hit 32 and Alex Senior 24.
Harlow almost turned certain defeat into a remarkable victory by taking early wickets and having Bentley on the back foot throughout but the home side just crept home despite some good bowling especially from Chris Whitworth (3-27), Abi Farooq (2-7), Alex Senior (2-34 including a srtunning caught and bowled off Bentley's star batsman) and Joe Riddell (2-25).
Surprising defeat also for the Second XI who also struggled with the bat which is very unusual for that side. Bowling first they restricted Hutton to 197 with Farhad Hikmatshah (3-37) leading the way whilst Waheed Azam Ben Seary and Abubaker Rafiq all took two wickets each.
Harlow were rocked by 3 very early wickets and despite a recovery from Asad Baig (37) and Amir Farooq (30) and Zabi Hakimi (22) they slipped to a disappointing defeat making only 164 all out.
The top of the table Third XI dominated their potential league title encounter against Upminster but had to settle for the draw after their opposition dug in for the draw.
Batting first Harlow made a very useful 233 with notable scores from Rizwan Qayyum (65), ARshad Muhammed (51), Sunny Ali (51*) and Dip Basnet (41).
With Jake Hikmatshah (4-29 in 13 overs) bowling superbly Harlow looked to have an opportunity for a crucial win with Upminster on 80-5 but they defended resolutely to end their innings on 180-7 leaving Harlow with a winning draw.
Far better news from the remarkable 4th XI who despite being a six of young teenagers and some old salty vets are currently challenging for promotion against a raft of 3rd XI teams. Mark Quant's side were able to chase down Loughton's 173 (3 wickets apiece for Jack Fuller and Safi Sarajudeen whilst the skipper claimed a brace). In reply, Bill Clark (26) and Alfie Jessey (17) got Harlow off to a decent start before Reece Galvin (44), Safi (26) and Naseer Mirza (30*) finished the job for a 3 wicket win.
We've already heard of the Allen family heroics for the 5th XI. Thanks to father and son Harlow posted a very handy 237-5 with Jack Sykes also in the runs with 42. Hockerill were to chase it down with 10 balls to spare for the loss of just 3 wickets despite a good effort from Harlow's young attack, Danny Stone (2-26) the stand out bowler on the day.