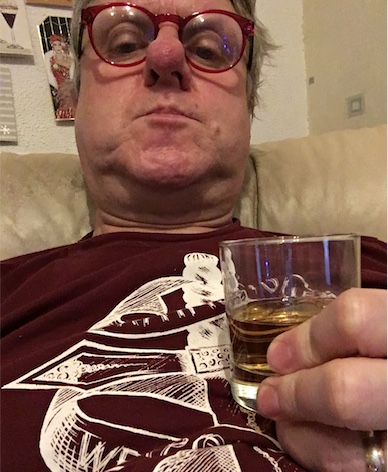 Blogspot by Harlow Councillor Ian Beckett
Chair of Health Committee

New Years Resolution – Make mine a large one!
"He'll never do it". That's what some will say, if not to my face, then behind my back. It doesn't matter. They're wrong.
From midnight tonight, I'm going teetotal for the whole of 2018.
I'm not raising money for charity but I am looking for sponsorship – in the form of support and encouragement from colleagues, family and friends.
It's not a spur of the moment decision. It's been prodding at me for a couple of weeks. Since the last stinking hangover actually.
It's been nagging at me – "You've made arrangements for a meeting in a pub next Tuesday" – that's a bit silly;
I bring a conversation to a close with "That's one to discuss over a good bottle of South African Red" – that could be a long wait.
You say to the Vicar "Let's discuss it over a beer in the New Year" – God knows!
So, why do it?
I'm overweight and alcohol is a significant contributor. I've tried cutting back without sustainable success. The more I drink, the more I want to drink, the more I tend to drink. In the pub, in the club, in my home, on my own.
It impacts upon my behaviour. Rarely it may seem to make me more fun to be with, although I've never heard anyone say "Oh, Ian have another drink – you're so funny!"
It impacts negatively on my moods generally dragging me down, giving rise to uncharacteristic anger and aggression.
It relaxes my inhibitions – which for a man with few inhibitions can lead to unacceptable and embarrassing "moments in time" (there are at least two or three apologies in there).
I'm Chair of Harlow's Health & Wellbeing Board and nearly every document I read mentions alcohol and the short, medium and long-term negative impact it can have. It's really time I showed so leadership beyond word-forms.
This afternoon the final prod appeared in my Twitter feed in the form of an article in today's Guardian (31/12/17) "Giving up alcohol for a year salvaged my mental health" by Ned Lamb.
https://www.theguardian.com/commentisfree/2017/dec/31/giving-up-alcohol-salvaged-mental-health?CMP=share_btn_link

I recognised it as the final prod in what I'm convinced is the right direction for the right reasons.
I'm making my plans public for two reasons: to make it 'real' and to ask my supporters to be on-hand with the alcohol-free ginger beer from time to time.
So wish me luck – if you wish.
Happy New Year. I expect to see 2018 slightly differently from any other year in my adulthood.
Ian Beckett