The Harvey Centre Promotes Living Smart Homes Through Free Coffee Mornings

EARLIER this year, The Harvey Centre in Harlow teamed up with Rainbow Services and Phoenix Resource Centre to hold a pop up coffee stop in the centre, to help overcome loneliness and social isolation within the Harlow community. Since opening on 13th June 2019, the weekly coffee mornings have been a huge success, welcoming individuals of different ages and backgrounds to meet others within the community. The coffee mornings are held every Thursday between 10am and 12:30pm.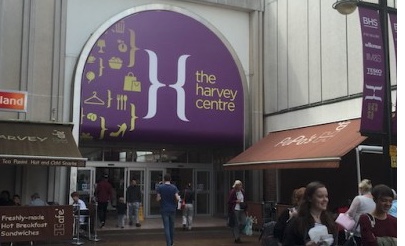 Following their success, the partnership has grown with the addition of The Living Smart Homes project, which is funded by the Department for Digital, Culture, Media and Sport. It is being delivered by Rainbow Services, CVSU and VAEF, in partnership with Alcove. As part of the project they have installed assistive technology in 6 homes across West Essex, two of which are in Harlow. The aim of this technology is to help people live independently at home for longer with the use of items such as smart plugs and bulbs, sensors, Alexa and safe motion watches.
They currently have regular coffee mornings in the smart homes for professionals to visit, see the tech and hear feedback directly from the resident. However, now wanting to share the information on a wider basis to enable everyone to learn how this innovative project has helped local people, they approached the Harvey Centre with the idea of integrating it into their weekly coffee mornings.
The first session at the pop up takes place on Thursday 19th September, 10am until 11:30am, and will allow visitors to view a short film about the project, which includes a 360 of the homes and feedback from the residents, and to see some of the technology being used throughout the home.
Bryan Young, Centre Manager at The Harvey Centre says, "The coffee mornings have been a huge success this year, so it is great that we have been able to build on the benefits of them to the local community by providing additional services, help and advice."